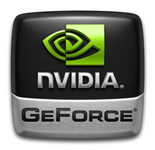 In 2009 Nvidia released it's flagship card, the GTX 295 which came with two GT200 cores on the same graphics card, and was a huge hit. When ATI debuted their 4890, Nvidia fired back with their GTX 275 - a card based off of only one of the chips used on the GeForce GTX 295 video card. By using only one of these cores, the 275 takes advantage of 240 Stream Processors combined with the same memory design of the GeForce 260 - giving hugely better preformance while costing less than a GTX 285.
---
---
---
---
---
---
BFG NVIDIA GeForce GTX 260 OC MAXCORE 55 896MB GDDR3 PCI Express 2.0 Graphics Card





The BFG GeForce GTX 260 OC MAXCORE 55 graphics card combines the power of 24 more processing cores (versus the standard GTX 260) on a new 55nm GPU with BFG's out-ofthe-box overclocking to rip through DirectX 10 games at blazing fast frame rates and enable realistic physical motion and massively destructible environments with NVIDIA¿s new PhysX technology...
---
---
---
EVGA GeForce GT 1030 SC 2GB GDDR5 Single Slot Graphics Card 02G-P4-6338-KR
Sale Price: $99.80





Accelerate your entire PC experience with the fast, powerful EVGA GeForce GT 1030 graphics card. Its award-winning NVIDIA Pascal architecture, powerful graphics engine, and state-of-the-art technologies give you the performance upgrade you need to drive today's most demanding PC applications...