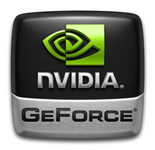 In 2009 Nvidia released it's flagship card, the GTX 295 which came with two GT200 cores on the same graphics card, and was a huge hit. When ATI debuted their 4890, Nvidia fired back with their GTX 275 - a card based off of only one of the chips used on the GeForce GTX 295 video card. By using only one of these cores, the 275 takes advantage of 240 Stream Processors combined with the same memory design of the GeForce 260 - giving hugely better preformance while costing less than a GTX 285.
---
---
BFG NVIDIA GeForce GTX 260 OC MAXCORE 55 896MB GDDR3 PCI Express 2.0 Graphics Card
List Price: $186.99
Sale Price: $186.99





The BFG GeForce GTX 260 OC MAXCORE 55 graphics card combines the power of 24 more processing cores (versus the standard GTX 260) on a new 55nm GPU with BFG's out-ofthe-box overclocking to rip through DirectX 10 games at blazing fast frame rates and enable realistic physical motion and massively destructible environments with NVIDIA¿s new PhysX technology...
---
---
---
---
---
2018 Lenovo Y700 15.6" Ultra HD 4K IPS Powerful Gaming Laptop, Intel Core i7-6700HQ 2.6GHz, 16GB RAM, 1TB HDD + 256GB SSD, Red LED Backlit Keyboard, NVIDIA GeForce GTX 960M 4GB GDDR5, Windows 10
List Price: $1,040.00
Sale Price: $1,040.00





Game Over The IdeaPad Y700 notebook delivers all you need for an intense mobile gaming experience. With discrete graphics, stunning sound, Ultra HD displays and maximum mobility, it's never been easier to get your gaming fix on the go...
---
Prolimatech MK-26 Universal VGA Cooler
List Price: $69.97
Sale Price: $69.97





The dual radiator MK-26 is a powerhouse VGA cooler that is perfect for where heavy duty cooling performance is needed. Includes high performance Pk-3 Nano Aluminum Thermal Compound Also sold bundled with either dual Blue Vortex 12 Fans ($84...
---
---