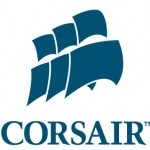 Corsair is one of the biggest names in solid state technology, and now you can get one of their cutting edge SSD at a fraction of the retail price. For years now, Corsair has been the goto company for high quality memory - so with their incredible amount of memory experience, they quickly came to dominate the new SSD market. Don't buy some no-name SSD when you can get a real Corsair
To see our available Corsair Solid State Drives, just look below:
---
---
---
---
CORSAIR FORCE Series MP300 120GB NVMe PCIe M.2 SSD Solid State Storage
List Price: $29.99
Sale Price: $29.99





The CORSAIR MP300 M.2 PCIe NVMe SSD delivers three-times the performance of SATA drives in a compactM.2 form factor, making it an ideal upgrade to laptops or performance PCs. Able to reach speeds of up to1600MB/sec sequential read and 1020MB/sec sequential write, the MP300 leaves traditional SATA SSDs far behind...
---
WD Blue 3D NAND 500GB PC SSD - SATA III 6 Gb/s, 2.5"/7mm - WDS500G2B0A
List Price: $59.99
Sale Price: $59.99





The WD Blue 3D NAND SATA SSD utilizes 3D NAND technology for capacities up to 2TB* with enhanced reliability. Featuring an active power draw up to 25% lower** than previous generations of WD Blue SSDs, you're able to work longer before recharging your laptop, while sequential read speeds up to 560MB/s and sequential write speeds up to 530MB/s give the speed you want for your most demanding computing applications...
---
Crucial MX500 1TB 3D NAND SATA 2.5 Inch Internal SSD - CT1000MX500SSD1(Z)
List Price: $119.99
Sale Price: $119.97





Start your system in seconds, store up to 2TB of data, and upgrade with an SSD you can count on. Join more and more people who are keeping their family videos, travel photos, music, and important documents on an SSD, and get the near-instant performance and lasting reliability that comes with solid state storage...
---
Samsung SSD 970 EVO 2TB - NVMe PCIe M.2 2280 SSD (MZ-V7E2T0BW)
List Price: $599.99
Sale Price: $465.00





Samsung's 970 EVO continues to lead industry standards with V-NAND technology for reliable and superior performance. Accelerate into next-gen computing with read speeds up to 3,500MB/s* and a 5-year limited warranty with exceptional endurance up to 1,200 TBW*...
---
---
---