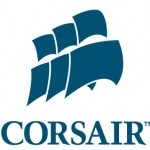 Corsair is one of the biggest names in solid state technology, and now you can get one of their cutting edge SSD at a fraction of the retail price. For years now, Corsair has been the goto company for high quality memory - so with their incredible amount of memory experience, they quickly came to dominate the new SSD market. Don't buy some no-name SSD when you can get a real Corsair
To see our available Corsair Solid State Drives, just look below:
---
Corsair Dual SSD Mounting Bracket 3.5" CSSD-BRKT2
List Price: $23.80
Sale Price: $3.14





There are many factors to consider when upgrading from 3.5" hard-drive (HDD) to 2.5" solid-state drive (SSD). One of those is that direct mounting of SSDs in most desktop computer cases is not possible due to lack of dedicated 2...
---
Corsair Force LS Series 60 GB 2.5-Inch SSD
List Price: $46.99
Sale Price: $46.99





Force Series LS provides a reliable solid-state storage for any PC or notebook with a standard 2.5" drive bay. It boasts great performance and outstanding value. It's backward compatible with SATA 2 and SATA 1 for maximum compatibility...
---
Corsair Flash Voyager GTX 128GB USB 3.0 Flash Drive
List Price: $93.99
Sale Price: $81.72





Most USB drives are fast. until it's time to copy a large file and you're looking at a progress bar that lingers around too long. The solution? Integrate an SSD controller into a drive. Flash Voyager GTX gives you transfer speed that rivals your PC's solid-state drive...
---
---
Corsair Force Series MP500 240GB M.2 NVMe PCIe Gen. 3 x4 SSD
List Price: $173.04
Sale Price: $123.99





CORSAIR Force MP500 series M.2 SSDs deliver high performance, quick system boot ups, blazing fast transfer speeds and ultimate reliability in a compact form factor. The Force MP500 allows you to access all of your data, load files and launch games up to 4x faster than SATA3 6Gbps SSDs...
---
---
---
KingDian M-SATA SATA II Internal Solid State Drive 32GB Speed Upgrade Kit for Desktop PCs and MacPro
List Price: $29.99
Sale Price: $29.99





1.Basic Product Information: -->Brand: KINGDIAN; -->Capacity: 32GB; --> Interface:Mini SATA2(3.0Gb/s); -->Item Dimensions:50x30mm; -->Use For: Mini pc\Desktop PC\Note Book\All-in-one PC\Industrial PC\POS Machine\Advertising terminal\User terminal\Cloud terminal and can be used on other devices which can use HDD 2、Performance: -->Sequential Read/Write(MAX):217/52MB/s-->IOPS Random Read/Write IOPS(Max):3905/356 -->Boot Time: 17-20 Seconds -->Average Access Time: 0...
---
---