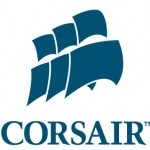 Corsair is one of the biggest names in solid state technology, and now you can get one of their cutting edge SSD at a fraction of the retail price. For years now, Corsair has been the goto company for high quality memory - so with their incredible amount of memory experience, they quickly came to dominate the new SSD market. Don't buy some no-name SSD when you can get a real Corsair
To see our available Corsair Solid State Drives, just look below:
---
Corsair Dual SSD Mounting Bracket 3.5" CSSD-BRKT2
List Price: $8.99
Sale Price: $5.01





There are many factors to consider when upgrading from 3.5" hard-drive (HDD) to 2.5" solid-state drive (SSD). One of those is that direct mounting of SSDs in most desktop computer cases is not possible due to lack of dedicated 2...
---
WD Blue 3D NAND 1TB Internal PC SSD - SATA III 6 Gb/s, 2.5"/7mm, Up to 560 MB/s - WDS100T2B0A
List Price: $99.99
Sale Price: $99.99





The WD Blue 3D NAND SATA SSD utilizes 3D NAND technology for capacities up to 4TB* with enhanced reliability. Featuring an active power draw up to 25% lower** than previous generations of WD Blue SSDs, you're able to work longer before recharging your laptop, while sequential read speeds up to 560MB/s and sequential write speeds up to 530MB/s give the speed you want for your most demanding computing applications...
---
---
---
---
Crucial MX500 500GB 3D NAND SATA 2.5 Inch Internal SSD - CT500MX500SSD1
List Price: $64.94
Sale Price: $64.89





Start your system in seconds, store up to 2TB of data, and upgrade with an SSD you can count on. Join more and more people who are keeping their family videos, travel photos, music, and important documents on an SSD, and get the near-instant performance and lasting reliability that comes with solid state storage...
---
---
Corsair Force Series MP600 2TB Gen4 PCIe X4 NVMe M.2 SSD
List Price: $449.99
Sale Price: $369.99





Extreme Gen4 storage performance: A Pie Gen4 x4 controller delivers up to 4, 950MB/s sequential read and 4, 250MB/s sequential Write speeds, for blazing fast read, write, and Response times. Tech Support # 1-888-222-4346 opt #1
---
---