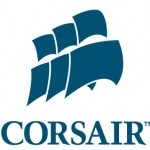 Corsair is one of the biggest names in solid state technology, and now you can get one of their cutting edge SSD at a fraction of the retail price. For years now, Corsair has been the goto company for high quality memory - so with their incredible amount of memory experience, they quickly came to dominate the new SSD market. Don't buy some no-name SSD when you can get a real Corsair
To see our available Corsair Solid State Drives, just look below:
---
Corsair Dual SSD Mounting Bracket 3.5" CSSD-BRKT2
List Price: $8.99
Sale Price: $5.65





There are many factors to consider when upgrading from 3.5" hard-drive (HDD) to 2.5" solid-state drive (SSD). One of those is that direct mounting of SSDs in most desktop computer cases is not possible due to lack of dedicated 2...
---
Corsair Force LS Series 60 GB 2.5-Inch SSD
List Price: $46.99
Sale Price: $39.99





Force Series LS provides a reliable solid-state storage for any PC or notebook with a standard 2.5" drive bay. It boasts great performance and outstanding value. It's backward compatible with SATA 2 and SATA 1 for maximum compatibility...
---
---
Corsair Force Series MP500 480GB M.2 NVMe PCIe Gen. 3 x4 SSD
List Price: $288.99
Sale Price: $281.57





CORSAIR Force MP500 series M.2 SSDs deliver high performance, quick system boot ups, blazing fast transfer speeds and ultimate reliability in a compact form factor. The Force MP500 allows you to access all of your data, load files and launch games up to 4x faster than SATA3 6Gbps SSDs...
---
Corsair Flash Voyager GTX 256GB USB 3.0 Flash Drive
List Price: $164.99
Sale Price: $164.99





Most USB drives are fast. until it's time to copy a large file and you're looking at a progress bar that lingers around too long. The solution? Integrate an SSD controller into a drive. Flash Voyager GTX gives you transfer speed that rivals your PC's solid-state drive...
---
---
Corsair Flash Voyager GTX 256GB USB 3.1 Premium Flash Drive
List Price: $127.00
Sale Price: $126.00





The Flash Voyager GTX USB 3.1 premium flash drive puts SSD performance in your pocket, with up to 440MB/sec read and 440MB/sec write speeds. Encased in a solid zinc alloy housing, and available in 128GB, 256GB, 512GB and massive 1TB capacities, you can load up all your data and access it in speed and style...
---
---
CORSAIR ONE ELITE Compact Gaming Desktop PC, Intel Core i7-8700K, GTX 1080 Ti, 480GB M.2 SSD, 2TB HDD, 32GB DDR4, VR-Ready
List Price: $2,999.99
Sale Price: $2,999.99





Featuring the latest six-core Intel Core i7-8700K CPU, CORSAIR ONE ELITE offers the definitive 4K, VR, gaming and streaming experience. Combining premium material construction, a bead-blasted aluminum chassis and subtle ambient lighting, CORSAIR ONE ELITE conveys refined yet unmistakable style that's at home in a workstation, gaming setup or as a VR show piece...
---
Corsair Carbide Series 100R Mid Tower Case
List Price: $49.99
Sale Price: $49.99





The Carbide Series 100R Mid Tower case lets you hide a high-powered, killer gaming rig inside of a case that would look at home in any professional environment. It's easy to customize with plenty of tool-free installation options, highly expandable with extra fan ports and drive bays to support SSDs, and performance-minded with USB 3...