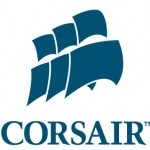 Corsair is one of the biggest names in solid state technology, and now you can get one of their cutting edge SSD at a fraction of the retail price. For years now, Corsair has been the goto company for high quality memory - so with their incredible amount of memory experience, they quickly came to dominate the new SSD market. Don't buy some no-name SSD when you can get a real Corsair
To see our available Corsair Solid State Drives, just look below:
---
Corsair Dual SSD Mounting Bracket 3.5" CSSD-BRKT2
List Price: $8.99
Sale Price: $7.84





There are many factors to consider when upgrading from 3.5" hard-drive (HDD) to 2.5" solid-state drive (SSD). One of those is that direct mounting of SSDs in most desktop computer cases is not possible due to lack of dedicated 2...
---
---
---
---
---
Corsair Flash Voyager GTX 128GB USB 3.1 Premium Flash Drive
List Price: $83.00
Sale Price: $67.99





The Flash Voyager GTX USB 3.1 premium flash drive puts SSD performance in your pocket, with up to XXXMB/sec read and XXXMB/sec write speeds. Encased in a solid zinc alloy housing, and available in 128GB, 256GB, 512GB and massive 1TB capacities, you can load up all your data and access it in speed and style...
---
CORSAIR FORCE Series MP300 240GB NVMe PCIe M.2 SSD Solid State Storage
List Price: $80.99
Sale Price: $59.99





The CORSAIR MP300 M.2 PCIe NVMe SSD delivers three-times the performance of SATA drives in a compactM.2 form factor, making it an ideal upgrade to laptops or performance PCs. Able to reach speeds of up to1600MB/sec sequential read and 1020MB/sec sequential write, the MP300 leaves traditional SATA SSDs far behind...
---
---
Corsair Memory Only Neutron XTi Series SSD 1920GB 2.5" (CSSD-N1920GBXTI)
List Price: $813.58
Sale Price: $808.93





Corsair Neutron XTi Series is an ultra-high performance SSD engineered to meet the most sophisticated demands and under wide range of different workloads. It is loaded with several features crossing from enterprise segment and bridges the gap between needs of an enthusiasts looking for maximum performance and demands of professionals requiring consistency and reliability...
---