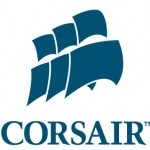 Corsair is one of the biggest names in solid state technology, and now you can get one of their cutting edge SSD at a fraction of the retail price. For years now, Corsair has been the goto company for high quality memory - so with their incredible amount of memory experience, they quickly came to dominate the new SSD market. Don't buy some no-name SSD when you can get a real Corsair
To see our available Corsair Solid State Drives, just look below:
---
Corsair Dual SSD Mounting Bracket 3.5" CSSD-BRKT2
List Price: $8.99
Sale Price: $7.72





There are many factors to consider when upgrading from 3.5" hard-drive (HDD) to 2.5" solid-state drive (SSD). One of those is that direct mounting of SSDs in most desktop computer cases is not possible due to lack of dedicated 2...
---
CORSAIR FORCE Series MP300 240GB NVMe PCIe M.2 SSD Solid State Storage
List Price: $54.99
Sale Price: $54.99





The CORSAIR MP300 M.2 PCIe NVMe SSD delivers three-times the performance of SATA drives in a compactM.2 form factor, making it an ideal upgrade to laptops or performance PCs. Able to reach speeds of up to1600MB/sec sequential read and 1020MB/sec sequential write, the MP300 leaves traditional SATA SSDs far behind...
---
---
---
---
---
Corsair Force LS Series 60 GB 2.5-Inch SSD
List Price: $46.99
Sale Price: $44.66





Force Series LS provides a reliable solid-state storage for any PC or notebook with a standard 2.5" drive bay. It boasts great performance and outstanding value. It's backward compatible with SATA 2 and SATA 1 for maximum compatibility...
---
---
---