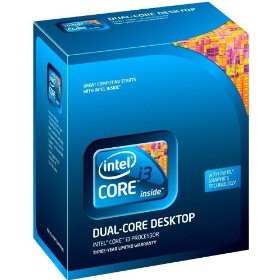 Looking for a great processor that can power your desktop, but won't destroy your wallet? The i3 from Intel is just the ticket. It may not be as powerful as it's bigger brother the i7, but it's nowhere near as expensive. Save yourself some money and pickup an i3 when you are processor shopping next time.
---
---
---
Intel 7th Generation Core i3-7350K 4.20 GHz FCLGA1151 Desktop Processor (BX80677I37350K)
List Price: $169.99
Sale Price: $169.99





Are you amazed by the things you can do with your computer? . If you bought your computer more than a handful of years ago, you're missing more than you know - uncompromised gaming, while you stream, chat and share with your community - stunning visuals of 4K HDR premium content - transport into a great VR experience...
---
Intel Boxed Core i3-6320 Processor FC-LGA14C 3.9 3 LGA 1151 BX80662I36320
List Price: $181.99
Sale Price: $181.90





6th Gen Intel core i3 processor for Desktop offers striking visuals, extended battery life, and higher data transfer rates, while leveraging the power efficiency of a new microarchitecture to deliver faster performance than previous generation processors...
---
---
---
---
Acer Aspire E 15, 15.6" Full HD, 8th Gen Intel Core i3-8130U, 6GB RAM Memory, 1TB HDD, 8X DVD, E5-576-392H
List Price: $379.99
Sale Price: $329.99





Acer Aspire E 15 E5-576-392H comes with these high level specs: 8th Generation Intel Core i3-8130U Processor 2.2GHz with Turbo Boost Technology up to 3.4GHz, Windows 10 Home, 15.6" Full HD (1920 x 1080) widescreen LED-backlit display, Intel UHD Graphics 620, 6GB Dual Channel Memory, 1TB 5400RPM SATA Hard Drive, 8X DVD Double-Layer Drive RW (M-DISC enabled), Secure Digital (SD) card reader, Acer True Harmony, Two Built-in Stereo Speakers, 802...
---
---
Cooler Master Hyper 212 Evo CPU Cooler with PWM Fan, Four Direct Contact Heat Pipes
List Price: $34.99
Sale Price: $30.96





Cooler Master, an industry leading chassis, thermal solution, peripheral, and accessory manufacturer, signals the rebirth of a household name in computing, the Hyper 212 EVO CPU Cooler. It comes packed with an improved tower fin design, heat pipe layout, and upgraded fans and fan brackets that provide an even more extreme value for end-users of all types...