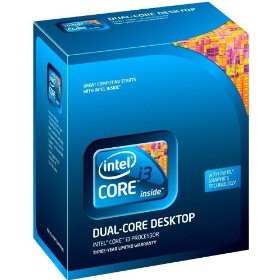 Looking for a great processor that can power your desktop, but won't destroy your wallet? The i3 from Intel is just the ticket. It may not be as powerful as it's bigger brother the i7, but it's nowhere near as expensive. Save yourself some money and pickup an i3 when you are processor shopping next time.
---
---
---
---
---
Intel Core i3 Processor 3.7 2 BX80646I34170
List Price: $139.93
Sale Price: $133.00





The Intel Core i3 processor is the perfect entry point for a fast, responsive PC experience. This processor comes equipped with Intel HD graphics, an advanced video engine that delivers smooth, high-quality HD video playback, and advanced 3D capabilities, providing an ideal graphics solution for everyday computing...
---
Intel BX80684I38100 8th Gen Core i3-8100 Processor
List Price: $117.00
Sale Price: $129.99





Prepare to be amazed with the 8th Generation Intel Core Desktop Processor family. The 8th Generation Intel Core i3-8100 comes with 4 processing Cores and 4 Threads. That's 2 additional Cores versus the previous generation for more processing power...
---
Intel Boxed Core i3-6320 Processor FC-LGA14C 3.9 3 LGA 1151 BX80662I36320
List Price: $165.76
Sale Price: $159.99





6th Gen Intel core i3 processor for Desktop offers striking visuals, extended battery life, and higher data transfer rates, while leveraging the power efficiency of a new microarchitecture to deliver faster performance than previous generation processors...
---
---
Cooler Master Hyper 212 EVO RR-212E-20PK-R2 CPU Cooler with 120mm PWM Fan
List Price: $34.99
Sale Price: $29.99





Cooler Master, an industry leading chassis, thermal solution, peripheral, and accessory manufacturer, signals the rebirth of a household name in computing, the Hyper 212 EVO CPU Cooler. It comes packed with an improved tower fin design, heat pipe layout, and upgraded fans and fan brackets that provide an even more extreme value for end-users of all types...
---